All shows produced by Jazida and workshops run in association with these events fall under the umbrella of #JazidaProductions.
The vision of #JazidaProductions is to elevate loval performance art (particularly burlesque and bellydance) within Canberra
This is done through events and productions which bring interstate artists to Canberra to share their performances and run workshops. All productions also provide performance opportunities to local artists and aim to showcase a variety of styles.
In the first year of running #JazidaProductions, Jazida produced/co-produced 11 shows and facilitated 8 workshops. A summary of all events in the first year can be found below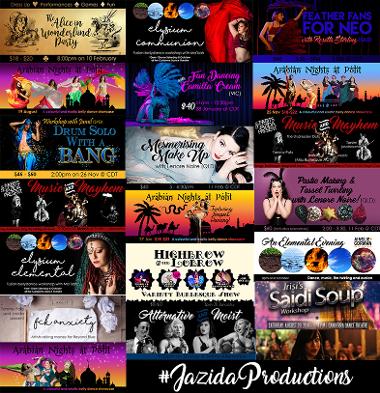 Jazida is proud to be a Canberra Burlesque performer and regularly performs in the ACT, but also adores travelling across Australia to showcase exactly what Canberra has to offer! If you're interested in having Jazida perform at your show, please email jazida.burlesque@gmail.com
Please visit Jazida's facebook event page for the most up to date details of events.