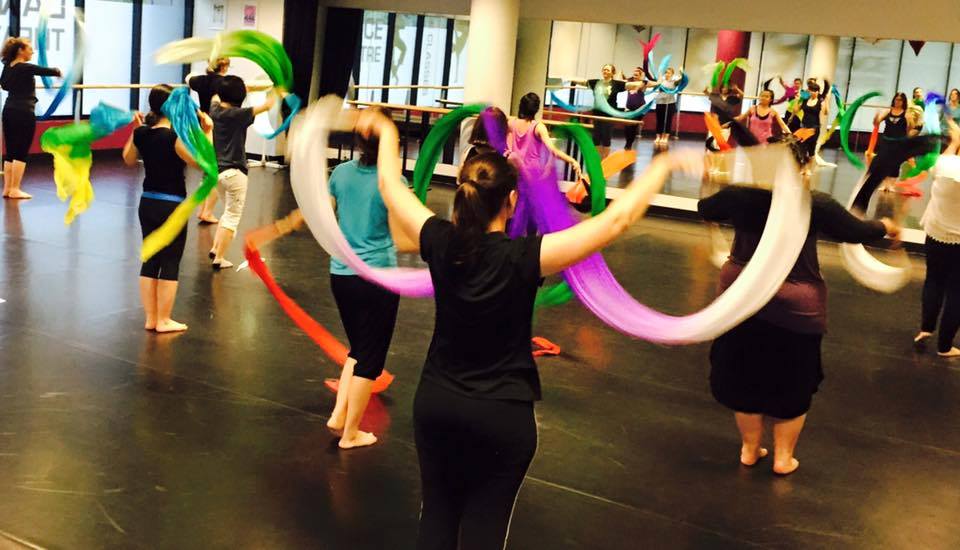 Classes Available
Jazida teaches weekly classes at the Canberra Dance Theatre, but also teaches workshops across the country as well as private lessons! Gift vouchers are also available if you would like to give a private lesson as a present!
For more information, please email jazida.burlesque@gmail.com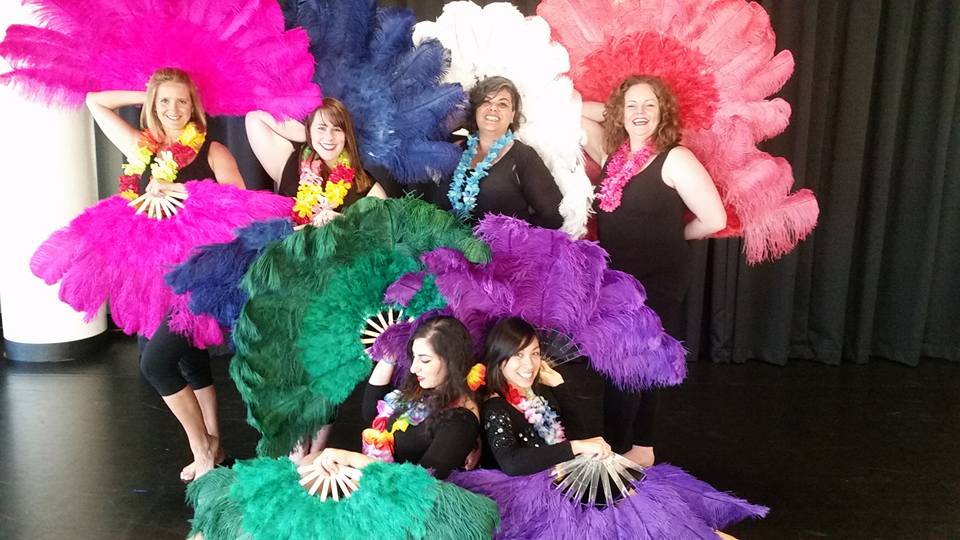 Weekly Classes at the Canberra Dance Theatre
Classes alternate between Fan Veil dancing and Feather Fan dancing
Term 4 (18 July - 19 Sept) 2017 - Fan Veils
Term 3 (10 Oct - 12 Dec) 2017 - Feather Fans
Term 1 (7 Feb - 10 April) 2018 - Fan Veils
Term 2 (31 April - 3 July) 2018 - Feather Fans
Where: Canberra Dance Theatre, corner of Kingsley Street at Barry Drive
When: Thursdays 7:30 - 9:00pm

These classes run every Thursday at 7:30pm. These are open classes, so anyone can join any time (no need to register for the whole term). Payment per class is made on arrival, or you can choose to buy a dance card for a slightly reduced cost her class. The standard cost is $22 per class (discounts available) (https://canberradancetheatre.org/members-and-class-costs/).
Fabulous Fan Veil
Classes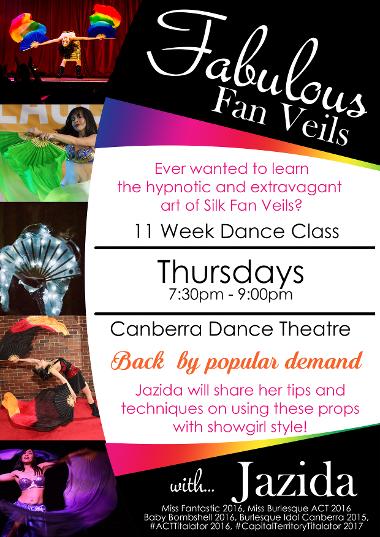 Jazida is back at the Canberra Dance Theatre teaching fan veils!!!

Silk fan veils are a hynotic and extavagent prop that can dramatically enhance performances with a whirl of colours!

Jazida (who was awarded the title of "Miss Fantastic 2016" for being the best fan dancer in the Miss Burlesque Australia competition and who also holds a series of other awards) is known for her use of silk fan veils and she will share her tips and techniques on using these props with showgirl style!

Learn a variety of tips, techniques and exciting combos. We'll explore single, double, open and closed fan work to help build strength in the core, wrists, arms, back; increase flexibility; and develop musicality.

Classes are suitable for complete beginner to those with experience looking to finesse their existing skills.

What to wear: clothing that allows you to dance and move freely without too much excess fabric around your arms (best to street clear or baggy sleeves and very loose tops)

What to bring: Fan veils if you have them (if not, Jazida has spares to loan to students during class)

Past terms of this class have taught choreographies that have gone on to perform across Canberra and Australia (featuring in Darwin and Newcastle)! Jazida has also been booked to share her fan veil skills in workshops across Australia. But most importantly... classes are loads of fun with a lovely group of people in a very supportive environment!

Fabulous Feather Fan Classes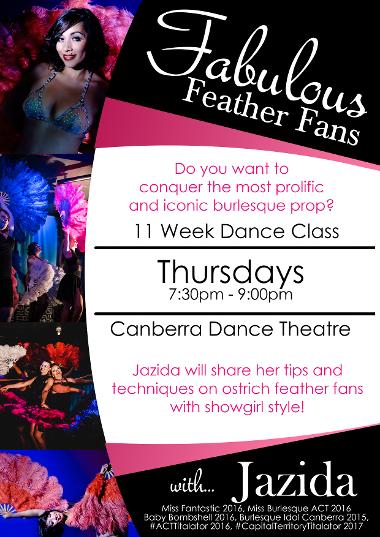 Have you found yourself captivated by feather fans?
Do you want to conquer the most prolific and iconic burlesque prop?
Are you interested in creating moments of tension or suspense in your dance?

Now is your chance! Learn how to twist and twirl a set of beautiful ostrich feather fans with Jazida who won the title of Miss Fantastic at Miss Burlesque Australia National Grand Final in 2016 for being the best fan dancer as well as Miss Burlesque ACT 2016, Baby Bombshell 2016 and Burlesque Idol Canberra 2015.

Jazida has passionately taught fan dancing (fan veils and feather fans) at the Canberra Dance Theatre for a year and a half. You will learn everything from proper fan holding technique and how to care for your fans to beautiful movements, and the best way to use your fans for the most impact on stage.
These are relaxed and fun filled classes where you'll meet great people and leave feeling energised!

These classes will focus on fan manipulation technique and can be done in comfy everyday clothes.
We'll explore single, double, open and closed fan work to help build strength in the core, wrists, arms, back; increase flexibility; and develop musicality. You will be using these props with showgirl style in no time at all!

Classes are suitable for complete beginner to those with experience looking to finesse their existing skills. During each class we'll do a cardiovascular warm up, a specific warm up for key muscle groups, a thematic drill (conditioning for common fan movements), learn a combo, piece the combo in a choreography for the term and close the class with a cool down.

What to wear: Clothing that allows you to dance and move freely without too much excess fabric around your arms (best to steer clear of baggy sleeves and very loose tops)
What to bring: Feather fans if you have them (if not, Jazida can loan smaller chinese fans)