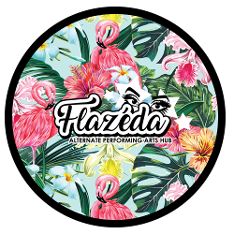 Learn with us at Flazéda
Jazida is excited to be running classes out of her new studio called "Flazéda" at Unit 4, 68 Emu Bank in Belconnen (upstairs from Subway in Belconnen)
Below is the class calendar (please note, this works best in Chrome - if you are having difficulties, we recommend you switching browsers). You can also visit the booking page direct at:
https://studiobookingsonline.com/flazeda/classcalendar
You can buy credits for classes and use your credits to register which classes you will be attending.
Pre-registering is critical to ensure we are aligning with Covid-19 safety requirements.
For more information about classes, or to book studio hire time, please visit https://www.flazedahub.com
Monday 7:30pm - 8:45pm
Fabulous Fan Dancing
Learn the art of fan dancing! Classes alternate between Fan Veil dancing and Feather Fan dancing each term
*In 2020 term 4 is feather fans*
Jazida has passionately toured workshops and taught fan dancing (fan veils and feather fans) every week since early 2016. You will learn everything from proper fan holding technique and how to care for your fans to beautiful movements, and the best way to use your fans for the most impact on stage. These are relaxed and fun filled classes where you'll meet great people and leave feeling energised!

These classes will focus on fan manipulation technique and can be done in comfy everyday clothes.
We'll explore single, double, open and closed fan work to help build strength in the core, wrists, arms, back; increase flexibility; and develop musicality. You will be using these props with showgirl style in no time at all!

At the end of the term, interested students will have the opportunity to perform the group choreography at community events and/or one of JazidaProductions shows. These performance opportunities are most likely unpaid.
Fabulous Fan Dancers - Troupe Development and Rehearsal
This time slot is reserved for advanced fan dancers who have already completed a minimum of 2 terms of fan dancing and wish to be part of Jazida's Fabulous Fan Dancing Troupe. This is a professional troupe and this time will be used to rehearse to upcoming performance and develop/polish acts.
The fee taken for being part of the troupe goes towards costume hire (costumes will be made/bought catered to your size, but kept by Jazida for the whole troupe) and will also cover public liability for performing and troupe insurance fees. Performance opportunities for the troupe are paid.
Hula Hoop Hotshot with Sian Brigid
One-on-one Development Workshop
This is time that can be booked in to have a one-on-one workshop session with Jazida to develop any act you are looking to take to the stage (burlesque, fan dancing, bellydance fusion or other). People who attend this session will receive feedback and tips on how to enhance their acts, can film relevant choreography sections and Jazida will work with them to map out choreography notes, which will be made available to the student afterwards.
This workshop time can also be used to develop other skills relevant to performing artists (such as how to run a burlesque business, tips for marketing, make up for stage, etc).
Please note that workshop fees include a studio hire fee. Regular students in other classes get a $20 discount for one-on-one workshops.
Siân has spent her whole life on the stage. Starting her professional career with the Sydney City Ballet Company at 14, she quickly discovered her love for entertaining ran deeper than dance and so began exploring the magical world of circus, with a particular focus on anything that spins (specialising in manipulations such as hoops, poi, fans, and staves).
In these fun classes, you can look forward to critical conditioning drills to get your body ready to correctly keep the hula hoop around your waist using good posture and support with full confidence and control. You'll learn how to catch it when it falls and practice a full body workout, strengthen your core, improve coordination and discover rhythm with your hoop.
We'll transfer the hoop around different parts of the body and work on a wide range of different on and off-body moves and tricks (including waist, hips, chest, and hands). Through the term we'll combine many of the moves together into a hoop dance flow.
Siân believes that taking a new approach to traditional props is the best way to learn, so expect something unexpected in any of her lessons!
Hula hoops are provided to students for loan during the class. Bookings strictly limited to ensure everyone gets a hoop (we only have x12 spares)
Please wear comfortable clothes that are aren't too baggy.
Terms and Conditions of Enrollment
Refunds and Make-Up Classes
A seven day cooling off period for cancellations and refunds are available after enrolment. After which, a full refund will only occur if the class term is cancelled or postponed
In some cases of injury, illness or other personal circumstances, a deferment of fees can be negotiated prior to the absence or when the situation first occurs.
When a student misses a class, they are welcome to attend any other class (make-up class) provided by Jazida within the same term. There is a maximum of 3 make-up classes per term. Individual classes will not be refunded or extended.
Where a student is unable to attend a booked one-on-one workshop, they must give a minimum of 2 days notice after which refunds can only be given at discretion.
Late enrollments and payments
Late enrollments will still be accepted if the class is not full. The full term fee remains payable until week 4.
Late paying students are not guaranteed a place if the class is full. Where not negotiated and full payment has not been made by week 4, a 25% late fee will be added to the invoice for student.
Injuries and Risks
While all reasonable care is taken in the conduct of classes, Jazida does not accept responsibility for injury or loss caused in or near the classes.
It is the student's responsibility to ensure they are medically fit for classes and to notify the teacher of any known injuries/limitations and to adjust the movement accordingly.
Where a student has a known medical condition that requires an action plan, they must inform Jazida before commencing classes. This detail and their emergency contact information must be provided through the Student Information Form
Students must ensure that they are using appropriate footwear and taking appropriate safety measures – by enrolling as a student, you declare you take full responsibility.
Where an accident or incident occurs, details will be reported to Jazida and properly recorded.
If required, students may receive medical treatment including first aid and agree to meet any associated medical expenses (including ambulance).
Values
Appropriate behaviour is expected while in and around Flazéda. While nudity/partial-nudity will be part of class, it is expected that you cover up if transiting between class spaces and that you are respectful of the building and other people in the vicinity.
Classes are aimed to be a safe, welcoming and inclusive environment for all students. There is zero tolerance for bullying, intimidation or discriminatory behaviour.
Where students must bring other people with them (such as children/family), there must be express consent from all the class members for them to be a spectator. Otherwise, they will need to wait in one of the other rooms of the hall until the class is complete.
Photos and Videos
Photos/videos taken, may be used for the purpose of promoting the school. Any sensitive images will always be cleared with you first. If you wish for your image not to be used or have any concerns, please email jazida.burlesque@gmail.com
Students understand that public community performances may result in and photos and videos being taken by the media or members of the public
Intellectual property
All choreography learned is the intellectual property of Jazida (or the teacher/choreographer) and where students choose to perform this without the troupe/Jazida, permission must be granted from Jazida (and the teacher/choreographer)and credit must be given.
All resources provided in class (such as handouts) are not for further circulation or to be used by students to teach others without permission from Jazida.
FAQs
Who can attend classes?
All genders, races, sizes and fitness levels are welcome! Anyone interested can attend fan dancing classes. To register your interest, please email Jazida.burlesque@gmail.com
I've never done burlesque or danced before. Can I still join?
Yes! Anyone is welcome to enrol. Classes are range from beginner to an intermediate level. This means that while Jazida will still work with you to build up your skills, it will be your responsibility to keep up with the pace of the class (this may mean reviewing videos and practicing at home if you are a fresh beginner)
Do I have to perform and do I have to strip?
No! You are welcome to do whatever you are comfortable with. Performing is not compulsory for class attendees and how much you choose to reveal or not reveal is up to your own discretion. To enable effective rehearsals and training, it is expected that all people enrolled as part of Jazida's Fabulous Fan Dancers (the professional performance troupe) will agree to perform.
Do I have to book in? Can I just show up to class?
All students must enrol for the classes they want to attend through the booking site at https://studiobookingsonline.com/flazeda/classcalendar
What kind of shoes do I need for class?
A lot of our classes will be done with bare feet (particularly when warming up and drilling new movement). We recommend being barefoot or wearing ballet flats when using van veils (as you can easily tear the silk if you wear heels).
Heels are welcome to be used, particularly for burlesque class and some of the feather fan classes. You can wear any heels that you feel comfortable in. However, we recommend wearing ballroom/salsa dance heels with flexible leather/suede soles.
Do I need to bring my own fans?
If possible, it is recommended that you bring your own props. However, Jazida can provide you with spare fan veils if you don't have your own. Where you don't have your own feather fans, Jazida has a very small collection available for loan, but also has plenty of smaller plastic fans which can be used to learn with.
You can buy your own fans online – for recommendations of where to get them please talk to Jazida or other fan dancers, as there are pros and cons to different styles and what is best for you will be unique.
How do I get there? Where do I park?
ACTION buses offer services direct to the Belconnen bus interchange, which is a 6 minute walk from the studio. This also a parking lots out the front of the studio building, as well as lot of street parking.
Can I book a burlesque hens party or a professional performance?
Absolutely! Jazida is happy to offer a range of exciting hens packages and performance options. For more information, please email Jazida.burlesque@gmail.com